Boston Red Sox third baseman justin turner is on the road to recovery after receiving a positive prognosis following a horrific display during Monday's game against the Detroit Tigers that left him bleeding and requiring more than a dozen stitches.
Turner, 38, fell to the ground immediately after being drilled in the face right-hander Matt Manning in the first innings. As paramedics rushed to help, Turner lay on the ground, covered in blood and clearly in pain.
Eventually he was able to walk on his own.
RED SOX'S JUSTIN TURNER IN HOSPITAL AFTER HIT TO FACE
Turner's wife, Courtney, posted the update on Monday two-time all-star He needed 16 stitches and was dealing with "a lot of swelling," but his first scans looked clear.
Then on Tuesday morning, Turner posted a positive update of his own.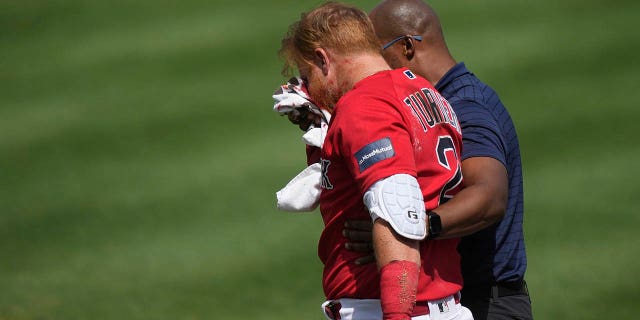 CLICK HERE FOR PAYMENT SPORTS ON FOXNEWS.COM
"Thanks for all the messages and prayers! I'm so glad I got out of yesterday with no downtime and all my chiclets intact."
Turner also thanked the Red Sox and Lee Health medical staff, saying, "I'll be back on the field as soon as possible!" he added.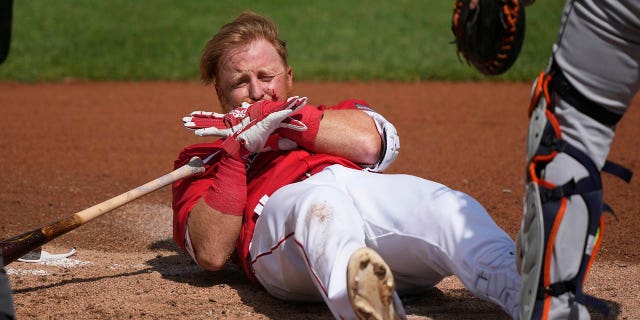 CLICK HERE TO GET THE FOX NEWS APP
After spending nine seasons together Los Angeles Dodgers, Turner signed a one-year, $15 million deal with the Red Sox during the offseason. In his final season with the Dodgers, he hit .278 with 13 homers and 81 RBIs in 128 games.
The Associated Press contributed to this report.