A new hit against potential 2024 presidential candidate Gov. Ron DeSantis was Thursday's unusual claim that the governor once ate chocolate pudding with three fingers.
The Daily Beast's article about DeSantis' "good" persona was said to be derived from the accounts of anonymous former staffers and GOP operatives. Reporters Jake Lahut and Zachary Petrizzo said DeSantis "struggles with basic social skills," showing "an aversion to small talk" and "general pleasantness" that make it "difficult" during unplanned interactions.
Among several complaints about his personal habits, the article included DeSantis's table manners.
"The talk of DeSantis' public relations has been negative stories about his social skills, particularly his tendency to eat during meetings," the reporters wrote.
REPUBLIC OF AXIOS FIRES CALLS DESANTIS PRESS RELEASE "PROPAGANDA"
They continued: "An episode in DeSantis history four years ago: During a private jet trip from Tallahassee to Washington, D.C. in March 2019, DeSantis enjoyed a chocolate pudding dessert and ate it with three fingers. two sources familiar with the incident."
The article also quoted an alleged ex-employee as saying to The Daily Beast: "He sits in meetings and eats in front of people … always like a hungry animal that's never eaten before … he gets — everywhere."
Lahut highlighted the pudding anecdote in his Twitter account promoting the event.
"New and former DeSantis staffers and those involved in planning his book tour/pre-campaign events describe long-standing issues with his soft skills when he's on the road. Case in point: the 2019 TLH to DC meal flight. 3 fingers pudding," Lahut tweeted.
Another tweet included screenshots of his article, with additional details: "The pudding incident described by former DeSantis employees as a typical example of his failure to read the room (in this case a very close flight deck).
FLORIDA CAPITOL PROTESTERS CRITICIZE PARATROOPER, KILL ANTI-TRANS KIDS!'
Lahut's tweet about the pudding incident drew mild reactions from both sides of Twitter.
Former Obama staffer Tommy Vietor tweeted, "Nothing wrong with that. Let the man eat his pudding."
"America needs a president who eats KFC with a fork and knife to protect the republic from this horror," wrote MSNBC columnist Zeyshan Aleem.
"I never thought I'd call DeSantis close," commented Eater's Seattle editor Harry Cheadle.
Others mocked Lahut and compared DeSantis' alleged actions to those of President Biden.
"You … you actually wrote this and put your name to it. We're now waiting for the Florida Legislature to negotiate an impeachment inquiry against Lahut because of the massive exposure. It's going to change the face of the campaign," joked Townhall.com columnist Brad Slager.
CNN commentator Scott Jennings noted, "The current president sniffs your hair and shakes hands with the air, but DeSantis struggles with soft skills."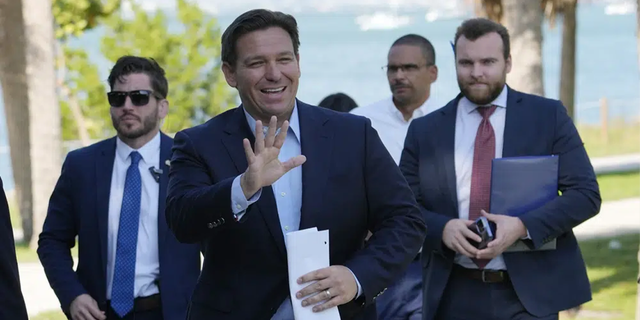 "Ron DeSantis once ate pudding with three fingers. Meanwhile, Biden went on a tangent about his first pudding in 1954 and how that led to his acceptance of transgender athletes," wrote RedState Senior Editor Joe Cunningham.
CLICK HERE TO GET THE FOX NEWS APP
DeSantis' office did not respond to Fox News Digital for comment.